Our South Island top 5 places to see wildlife
Here you will find our pick for the 5 regions of the South Island that we believe to be worth visiting. All operators are Department of Conservatoin approved operator and stand to make a real difference so please when choosing your next wildlife adventure, think about supporting them.

And if you encounter native wildlife, please remember to respect the Wildlife care code at anytime and anywhere in New-Zealand.

1 - Otago Peninsula/Dunedin
Otago Peninsula is home to rare and vulnerable wildlife: Little penguin, Yellow-eyed penguin, Royal albatross (the only mainland breeding colony), Fur seal, Sea lion…
Some eco-tourism companies will allow you to see wildlife, guided, in an undisturbed way:


Orokonui EcoSanctuary
Self-guided or guided tour. Meet native birds such as Kaka, Takahe, Tui, Bellbird, the local skink and many more!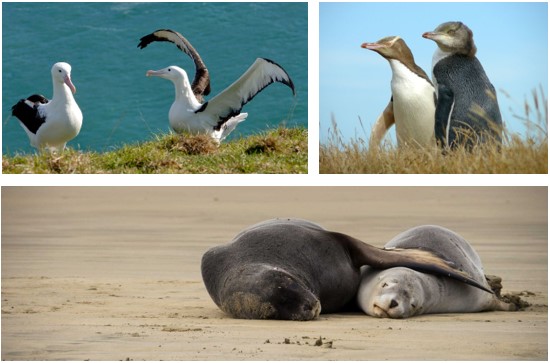 Photo credits: Royal Albatross Centre, Elm Wildlife, Otago Daily Time Dunedinnz.com
2 - Banks peninsula
Near Christchurch, Banks Peninsula hosts the biggest colony of Little Penguins on the mainland in New-Zealand, known as the endemic variant of Canterbury, The White-Flippered Penguin (more information on our blog about White-flippered penguins).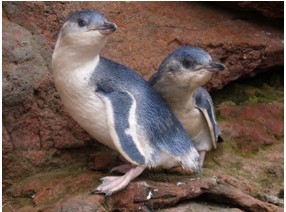 Photo credits: Pohatu Penguins,
Many other birds and sea-birds can be spotted in the area: Cormorants (spotted shag, pied shag, black shag, little shag…), Sacred Kingfisher, White-faced heron, Oyster catcher, Northern Giant Petrel, Sooty shearwater, Gannet…

Photo credits: NZ birds online
Banks Peninsula is also home to the Hector Dolphin, the smallest and also one of the rarest species of dolphin in the world. Numerous fur seal colonies are spread around the cost of Banks Peninsula. Other marine mammals such as orcas, blue whales, southern right whales are sometimes spotted.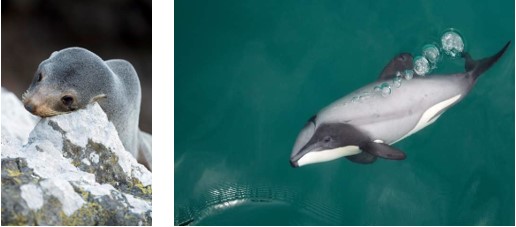 Photo credit: Pohatu Penguins, Mark Kitchingman
Akaroa is the departure point of small eco-tourism companies which allow you to see Hector Dolphins, Little Penguins and Fur seals with a near 100% guarantee.

Photo credit: EcoSeaker, Pohatu Penguins, Black Cat
3 - Kaikoura
Kaikoura is certainly the place to see marine mammals: Sperm whales, Dusky dolphins, NZ fur seals and sometimes other types of whales on their migratory routes (humpback whale, pilot whale, Blue whale, right whale…)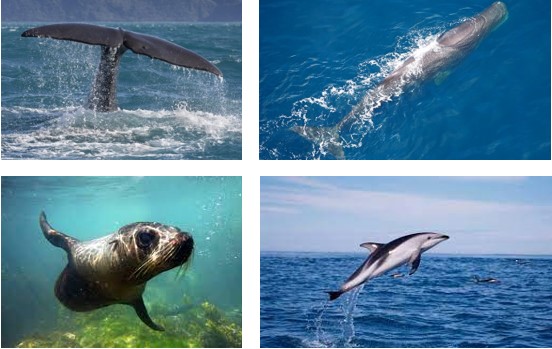 Photo credits: Whale spotters, Wings over whales, Seal swim Kaikoura, Kaikoura kayaks

Sea birds are also numerous: albatross, mollymawk, little penguin, Huttons' shearwater, cormorants, gulls and many more!


Photo credits: Shelley Topp
Numerous companies are operating in the area. Whether you decide to watch from a boat, a kayak, a helicopter or from the land, there is something for any budget!
Check out the Kaikoura I-Site website.
4 - Stewart Island
If there is a place in New-Zealand where wildlife outnumbers people, well that is definitely in Stewart Island! With over 85% of the island being National Park, it is haven for wildlife watchers.
The unique wildlife sanctuary (predator-free) Ulva Island is home to weka (native woodhen), bush robins, rifleman, saddleback and yellowhead amongst other species. The brown kiwi (Tokoeka) can be spotted in the wild, foraging for its diner on the beach at dusk…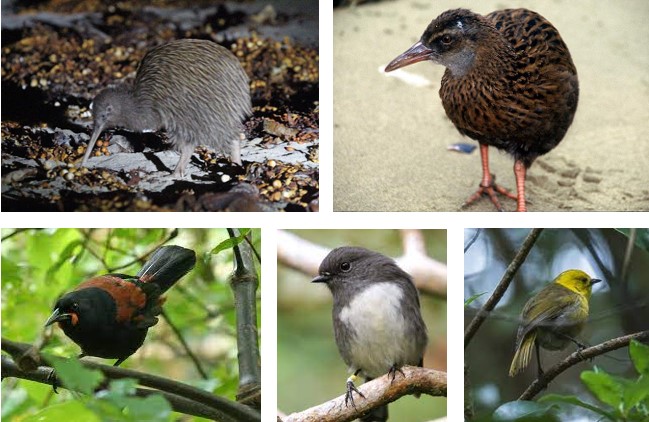 Photo credits: NZ Bird online, Wikipedia, Te Ara
Other spotted birds include: Kaka, Albatross, little penguin… The endangered Yellow-eyed penguin has a significant number of breeding sites here and there are large colonies of Sooty Shearwaters on the offshore Muttonbird Islands.
In term of marine mammals, some migratory whale species go past the shore and sometimes the inlets of Stewart Island. Common dolphins and bottlenose dolphins are regular visitors to the coast and Paterson Inlet.

5 - Arthurs pass
| | |
| --- | --- |
| Located in the mountains, near the West Coast, Arthur's pass is probably one of the best place to encounter the smart, inquisitive yet very endangered Kea. Known as the only alpine parrot in the world, Keas are famous for their cheekiness and "friendless" to humans. Where food and cars are around, Keas will quickly find the opportunity to practice their thief's skills. To their loss unfortunately… | |
Keep in mind that Keas are nationally endangered, their population is decreasing. Never ever give food to a kea – or let a kea steal your food - this would make the bird sick or even kill it, and worse you could encourage a wild animal to have a dependence on seeking food from humans.

Remember that it is against the law to harm, injure or kill a kea, like any native wildlife. Always stay calm and respectful.

Keep your belonging with you (backpack, pic-nic) to not encourage the bird to get into it

Respect speed limitation as car strike have been responsible for kea's deaths.

Other wildlife spotted around Arthur's pass include: Great spotted kiwi (mainly heard at night, more than seen), New Zealand falcon, Rock wren, Robin…

Photo credits: nzbirdsonline.org.nz, Arthur's Pass